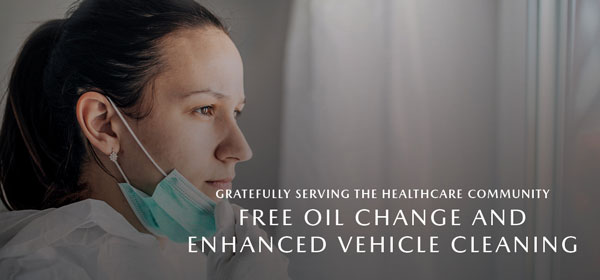 Extended through June 3rd, 2020, Mazda of West Ridge is pleased to announce the Essential Car Care Program, which provides a complimentary oil change and car wash/enhanced cleaning of high touch interior and exterior surfaces to those on the front lines of the COVID-19 endemic. Eligible recipients of this complimentary offer are all active healthcare workers in eligible U.S. medical facilities. Limit one (1) oil change and car wash/enhanced cleaning per customer during program period. Offer is not transferable. No cash value. A copy of current driver's license and a copy of documentation that clearly reflects proof of occupation is required. Examples include healthcare workers pay stub, workplace badges accompanied by proper ID, state license or training from previous year, or ID card with name and title. Program period is 4/16/2020 - 6/03/2020. Contact us for complete details.
Eligible Vehicles: Most standard make/model of passenger cars, crossovers and SUVs are eligible for the program. The following vehicles are not eligible: exotic vehicles, classic car vehicles, off road vehicles, certain high-performance vehicles, vehicles with greater than 8-quart engine oil capacity or any other vehicles with special manufacturer requirements or that require specialized tools or training.
Eligible Medical Facilities: Hospitals, Urgent Care, Surgical Centers, Birth Centers; Healthcare Providers, Doctor Offices, Medical Clinics, Medical Offices, Medical Centers, Medical Facilities, Health Systems; Mental Health Providers and Addiction Treatment Centers; Medical Testing Facilities, Imaging and Radiology Centers; Assisted Living, Long-Term Care Facilities, Nursing Homes, Hospice Homes, Adult Care Homes, Home Health Agencies; Public Health Agencies; Medical Laboratory and Research Centers; Medical Equipment Providers; Orthopedic and other Rehabilitation Centers (Physical Therapy, Chiropractic, etc.); Blood Banks; and Telehealth Providers.
Call 888-593-0195 or click button below to schedule your service appointment.
Hours
Monday

Closed

Tuesday

8:00am - 4:30pm

Wednesday

8:00am - 4:30pm

Thursday

8:00am - 4:30pm

Friday

8:00am - 4:30pm

Saturday

9:00am - 5:00pm

Sunday

Closed